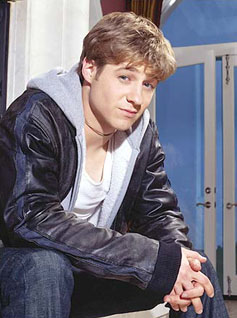 I can't quite pin-point what is happening to/around me. here is a list. you figure it out.
1) my sense of smell...is way OFF! i smell everything and it is overpowering. to the point of not being able to concentrate on anything else...weird? yes.
2) constant feelings of de-ja-vu....hmm. angels guiding me? perhaps. maybe i have already experienced this part of my life previously? perhaps. maybe something is just off? perhaps....
3) last night i had a dream about this hunka hunka burnin' love. yes...Ryan Atwood ladies and gentleman. My dream consisted of being held hostage (with jack) by some men (I believe they might have been the men from the movie Domino) i finally escaped from them (with jack) and ran into the arms of my loving boyfriend Ryan Atwood. Not sure if perhaps I was airing on an episode of the OC...or if Benjamin Mackenzie likes being referred to as Ryan Atwood...not sure...I think I am analayzing my dream too much. the quick and dirty. I dreamt that Ryan Atwood was my boyfriend? so..again...just a bit off....
hummmm....
I need to read my horoscope...
Hmm...so my horoscope doesn't seem to have anything about my weird experience...just that i am the best;) LIBRA you really shouldn't feel so dissappointed. Despite your worst self-doubts and against the odds, you have not failed in your attempt to prove your worth. You may not be infalliable, but you are beyond reproach. You are the best.
I couldn't make that up if I tried.
Happy Thursday...ps. the OC is on tonight...can't wait to reunite with my boyfriend!